FOXY'S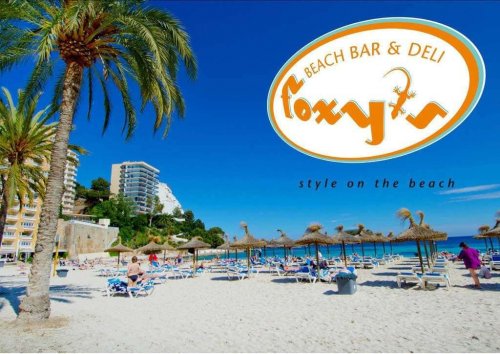 Foxy's Beach Bar and Deli - 'Life's a Beach'

Foxy´s Beach Bar is situated 5 yards from Magalluf Beach and over the past 10 years has become a solid favourite with tourists, residents and workers alike!
The menu offers everything from a range of home-made burgers, freshly made to order pizzas (with over 30 toppings to choose from), sizzling hot plates, steaks, fajitas and authentic curries; there really is a wide choice to choose from and something to suit everyone!
Foxy's welcomes you in from 10.30am where a ´proper´ Full English brekkie is served along with a choice of fresh fruit smoothies. Food is then available throughout the day until the kitchen closes around 23.00 and can offer everything from a light bite or fresh salad, a choice of 'picky bits' to enjoy with your sundowners drink or a full 3 course meal in the evening. All of this is accompanied with fresh and funky house tunes to get you in the mood for your evening ahead.
As its set right on the famous Magalluf beach front you can enjoy the views from the bar at a location in the heart of all the action or pop over to order a take-away for either the beach or for back at your hotel!
If you work in Magalluf pop along to find out how to get your workers wristband which entitles you to our dedicated workers 'CUBS' menu with excellent prices for starters, main course and desserts! This will also automatically invite you to our infamous end of season CLOSING PARTY where the aim is to drink the bar dry; and of course if you are on holiday at this time you can join us as well!
Apart from all of that, if you just fancy a drink, Foxy´s made to order thick iced-cream milkshakes are to die for & the signature cocktails are a perfect way to both enjoy your afternoon on the beach & the start your big night out!
Find on Google maps: Foxys